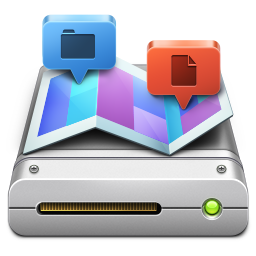 Disk Map
1.5
Software information
License:
Shareware (Free to try)
---
---
---
Website:
http://fiplab.com
Software Screenshots
Size: 0 Bytes
---
Downloads: 10770
---
Platform: Mac OS X
If you wish to make some room on your disk drive, you may end up spending a considerable amount of time looking for large and useless contents. To make this process faster and easier, you can use Disk Map. This lightweight utility can provide you with a visual representation of your files and folders and how much space they take up. Instead browsing through each folder and wasting time looking or large chunks of data, you can do everything in half the time.

The application comes with a compact user interface, on which you have to drop a folder or a drive and click a button. This will scan all the contents within that folder or drive. When the scanning process is complete, the user interface will expand reveal the results. Scanned data is represented as rectangles and squares, which are larger or smaller, depending on their size on the disk.

Besides showing you which files are the largest, in a given folder or drive, the application lets you select them and perform a series of basic actions. You can preview the selected files, compress them, open their location in Finder and, of course, you can delete them.

The best part is that it doesn't take long to complete a scanning process. From the moment you decide to free up some disk space until you actually remove large and useless files, you won't have to wait more than one or two minutes. Also, the application's modern and elegant user interface will make this a comfortable experience.

Identifying large chunks of data on your disk drive can't be any easier when using Disk Map.


Pros
The application is capable of scanning the contents of a folder or drive in under a minute. It provides an easy to understand graphical representation of the size of your files. All you have to do is drag and drop a folder or drive and click a button.
Cons
You can't delete files while using the trial version.
Disk Map Awards
---
Disk Map Editor's Review Rating
Disk Map has been reviewed by Frederick Barton on 04 Nov 2015. Based on the user interface, features and complexity, Findmysoft has rated Disk Map 5 out of 5 stars, naming it Essential
---